Our sailor David talks about preparing for his crossing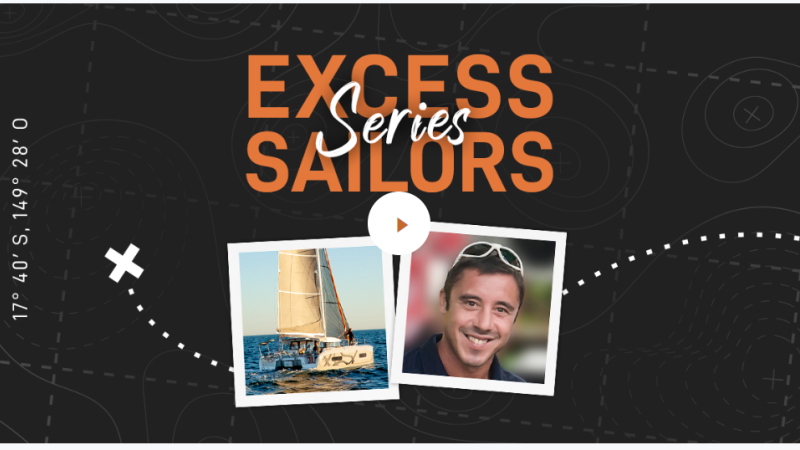 We meet up with our sailor and dealer David for this third and final video about preparing for his crossing aboard an Excess 11. David has now sailed from our shipyard in Le Poiré sur Vie on France's Atlantic coast to Tahiti, where he is currently working.
David had already had the chance to sail on a catamaran during a first family crossing in 2013. We took advantage of his experience to ask him to give us his feedback on what the Excess 11 is like under way and are grateful to him the precious tips we're sharing with you below!
"The Excess 11 with the Pulse Line rig starts off very quickly in light airs. We can sail from 4-5 knots of true wind as long as we have an angle of less than 110 degrees to the apparent wind. It can point up to 40 degrees off the apparent without any problems and, as soon as you bear away to 55 degrees off, you can get the code zero up. From 5-6 knots, you're sailing at wind speed under the code zero.
The speed of this catamaran is very consistent, as can be seen in the table below. And it surfs very well! With a swell coming from behind, you can exceed the indicated values without any problem. My personal record on Te Ava is 18.6 knots!
Like any good sailor, I'll always find things to improve on a catamaran. Concerning the Excess 11, I think the main area for improvement is its difficulty to exceed 10 knots, without swell, for surfing, though this is likely due to the waterline length.
I also wonder whether we should have an intermediate size headsail between the small self-tacking jib and the very large code zero. But I see that the Excess teams have made a very good choice to switch to an overlapping genoa on the Excess 14: the system of two sheets coming back to the starboard helm will allow the boat to perform better without making the maneuvers harder.
Below are some of my tips in terms of tuning and trimming:
Do not hesitate to luff up a lot under code zero in light airs,
The twist and the angle of the mainsail have a lot of impact on our sailing,
When sailing upwind, don't close the angle of the jib,
Try to keep the weight of the boat forward as much as possible because, with full tanks of diesel, the boat has a tendency to bury a little at the stern,
In strong downwind conditions, gooosewinging, as experimented with by Marco, works very well.
It is also possible to goosewing in light airs with the mainsail and code zero, but you have keep a careful eye out for squalls with this setup!
The angle of the swell has a very positive impact on the boat's performance and it surfs easily. It would be worth it to have it modeled by VPLP and why not open a new discussion topic on the Lab!"

Thanks again to David for his incredible feedback! And don't hesitate to get in touch with him if you fancy sailing in the beautiful waters of French Polynesia.