Working from my Excess - Chapter 1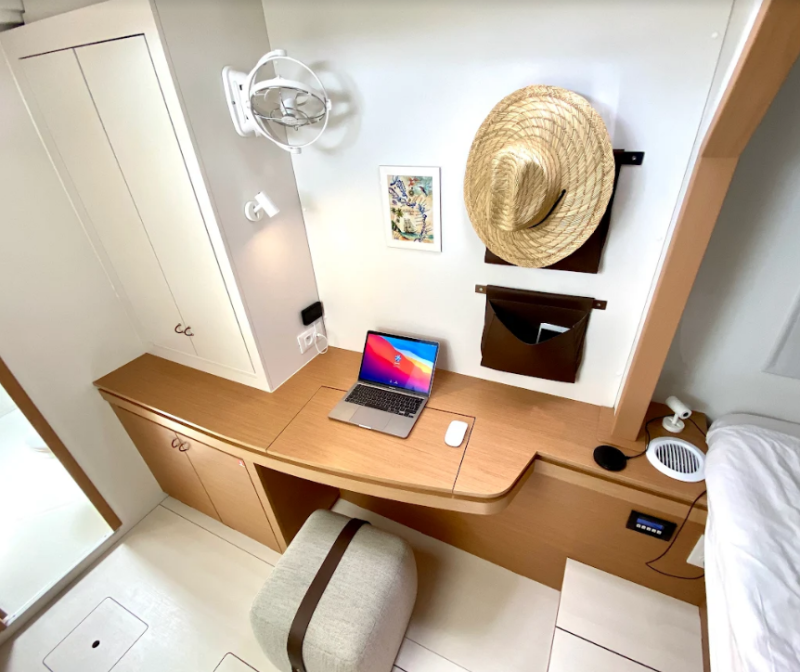 Today, more and more people are taking the decision to change their lives and travel the world on their boat while still working. We get the feeling that a much greater number of people would love to do this but sometimes they encounter a few obstacles.
Have you ever thought about leaving everything behind, living on a boat and working remotely? We'd like to investigate what might be missing today aboard our boats that could help potential sailors take the plunge and live this adventure.
So, we're launching a new chapter today called "Working from my Excess". We'd like to share some of the feedback with you, and also hear your opinions on this theme imagining what life would be like if you decided to work from on board an Excess.
In this first episode, we're delighted to share the experiences of Marco & Lizzy, a couple who are both entrepreneurs from the Netherlands. They've been able to continue working from their Excess 11 while sailing around the world. They won first place in the 2021 ARC in the cruising category, and have been traveling for over a year now including in the Mediterranean and the Caribbean.
To achieve this, they made some modifications to their boat, and today, they're sharing all the details with us! We hope all their tips and tricks will inspire you to put to the sea without having to quit your job.
If you've got a similar story, we'd be delighted to hear your thoughts!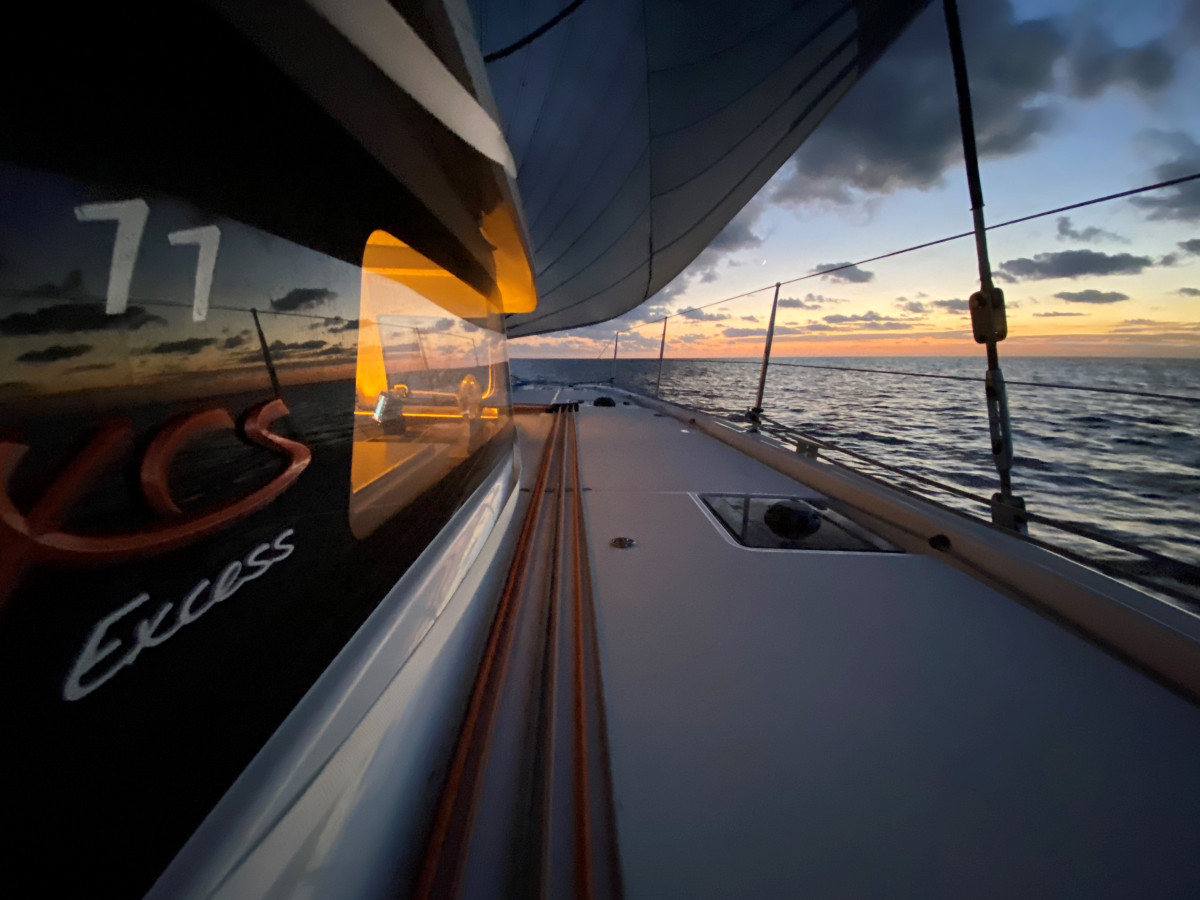 1. Marco, Lizzy, how did you make the decision to leave and work aboard your Excess? Was this a difficult decision to make as entrepreneurs?
There's never "the best time" to embark on an adventure. However, Covid actually helped us because it showed us and those around the possibilities of remote working. We figured it was a good time to start our adventure: both of our companies had gotten used to remote teams and understandably, it hadn't been the busiest year for Lizzy's company that's involved with coffee and event catering.
2. What's your favorite place on the catamaran for working?
We each have our favorite spot. Lizzy likes to work from the table outside so she can enjoy the view.
Marco's preference is "the office" as we like to call it. That's the desk in the owner's hull. As Marco often needs to make video calls, it's useful to be able to close off the space with the sliding door. But then Marco is always hot (or is working really hard), so he turns on the air conditioning.
3. Ergonomically, what have you changed to ensure you would be able to work comfortably from your catamaran?
If you're considering working from a boat, a catamaran is the best bet because it doesn't roll when anchored and generally offers more workspace, not to mention a 360-degree view. This is particularly true for video calls, as things can look a bit weird if the boat is rolling or pitching. That's one of the reasons we looked for a catamaran in the first place.
We considered buying an external monitor, but we're glad we didn't. In the end, we both work with our regular laptops and that works well. It's totally possible to work for hours in the saloon, as the table is plenty big enough for two people. The only modification we made was to install an extra 220V outlet under the saloon table so we could charge our computers without having to run cables right across the saloon.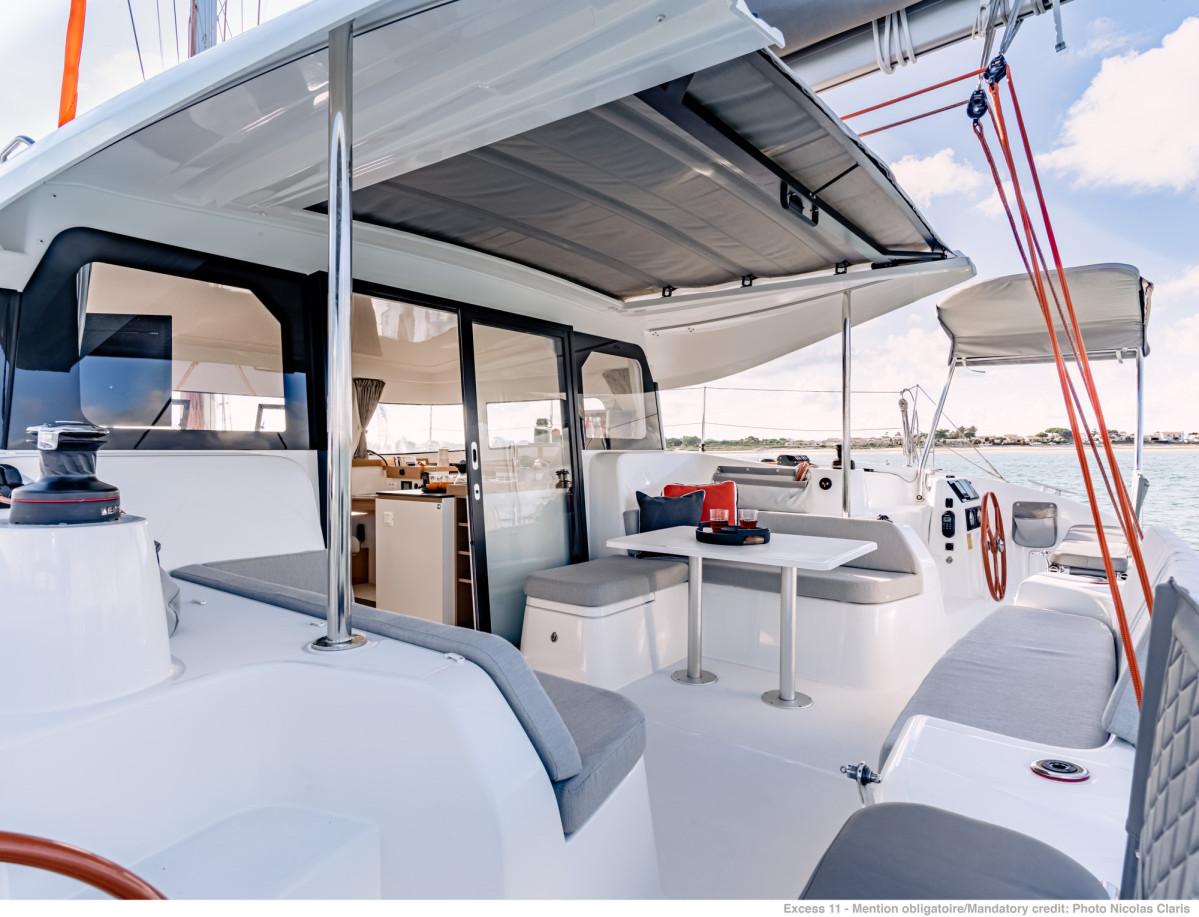 4. How did you work your energy requirements needed to make everything work (i.e. the amount of electricity)?
This is again the beauty of catamaran sailing and especially a catamaran like the Excess, where the huge, flat coachroof means you can install solar panels. Our goal had always been to be self-sufficient both under way and at anchor, so we invested in a number of solar panels as well as lithium batteries.
We calculated the total energy needs of the boat, and the "office" part is actually minimal. Even without all of our upgrades (solar and lithium), you can run your laptop, external monitor (if you decide to have one), etc. from the standard batteries. For example, a MacBook Pro charges at 70 watts (5 amps) maximum and is fully charged in about 2 hours. In other words, working from a boat doesn't require much additional power compared to a refrigerator, freezer or watermaker.
We highly recommend you get a "usage meter" (we use a Voltcraft SEM6000 energy consumption meter) that shows you the consumption of your 220V appliances over time. We actually got in the habit of "measuring" the consumption of the coffee machine, the induction hob and our laptops before we moved aboard the boat.
5. Have there been places you had trouble getting a good internet connection? Or no connection at all?
Since most of our work is done online, we were pretty worried about whether we'd get a good connection. Having now worked for a year from the boat in the Mediterranean and the Caribbean, we can assure you that there is high speed 4G available almost everywhere we've been! As EU citizens, our own SIM cards (with their 120Gb of data per month) worked throughout the Mediterranean as well as in the Canary Islands, Guadeloupe, Martinique, Saint Martin (on the French side) and other exotic locations. In addition to that, we got a 3-month subscription to Digicel, giving another 120 Gb per month, in Martinique which we've been able to use in all other Caribbean countries. The total cost of this amounts to about € 65 per month.
Lastly, we've been really surprised to be able to make perfect Zoom calls at anchor in the Grenadines while watching turtles swimming and looking at the palm trees in the background.
6. Technically, how did you equip the boat?
As we mentioned earlier, we really wanted to be self-sufficient and didn't want to run the engines to generate power. Our criteria were: no noise (for video calls) and no moving parts (no maintenance). So, a wind generator, a diesel genset, a Watt & Sea hydrocharger, etc. were all off the table. We installed 2,500 watts of solar panels along with 900 Ah of Lithium batteries. We produce about 8Kwh or about 650 Ah at 12 volts. This is enough to run the watermaker, cook using induction, run the refrigerator, the instruments, the freezer, the water heater and even the air conditioning.
The two laptops and our 4G router actually only represent a small part of the total. Even with the standard factory-fitted batteries and solar panels, you could easily work from any boat.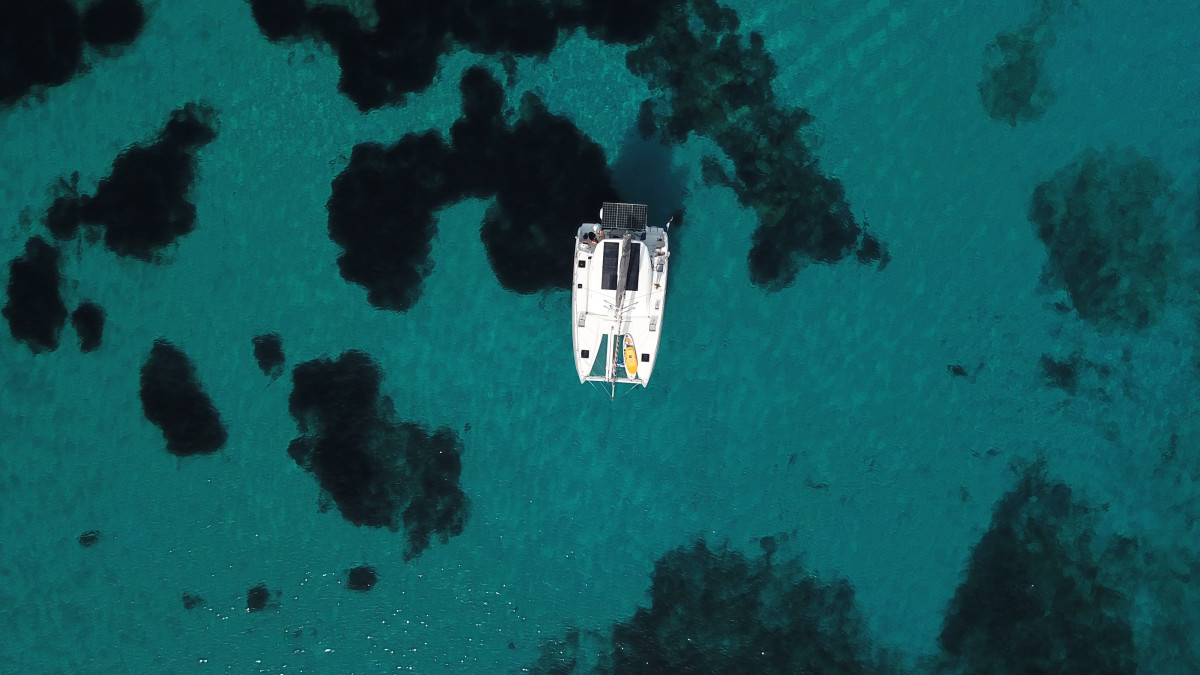 7. What solutions did you choose for your Internet connection? Does it work anywhere, even in the middle of the Atlantic Ocean? Any other places where the connection wasn't good enough?
We noticed a clear distinction in connection needs between "passage making" (crossing an ocean) and "cruising" (day trips, anchorages, etc.). For the former, an Iridium Go! works best. It allows you to send and receive email and weather information and you can make a few phone calls. We would never cross an ocean without it. Also, go with the unlimited plan because it takes about 20 minutes to download the weather files and it's nice to be able to get the latest forecast once or twice a day and allow everyone on the crew to email their friends and family as much as they want. During our Atlantic crossing, we did almost no work - maybe just a few emails over the course of those three weeks.
One tip about the Iridium: during the crossing, we put the Iridium in an (open) plastic bag and someone was responsible for taking it and putting it in the storage bag in case something happened. In the storage bag, we kept a spare charging cable as well as a solar power bank to be able to recharge the Iridium in case of an emergency. The same power bank could also charge our wireless phones. This combination (plastic bag on one side and storage bag on the other) really gave us a sense of comfort. For our Atlantic crossing we temporarily installed the external antenna, but for other trips (such as crossing the Bay of Biscay, etc.) we simply kept the Iridium near the windows, which worked well.
However, when you are in "cruising" mode (i.e., island-hopping or spending time at anchor), a faster connection is important.
Marco is very picky about technology, so he was one of the first to get his hands on a Starlink antenna. We tested it and it was spectacular: a download speed of 200 Mb was achieved, which is much faster than 4G, or even our connection back home. However, it's only in recent weeks that it's been possible to take your Starlink dish and move it to other locations, but not outside of your home country. In retrospect, we would not have invested in this system because it takes up a lot of space under our bed, and there is 4G everywhere. In a year or so, it looks like it will work worldwide, but 4G coverage will probably have improved as well, so we may not need it anymore.
8. Is the connection speed as good (as fast and as reliable) as at home or in your office in Amsterdam? What office tools do you use: computer, printer, scanner, video and sound system, for video calls?
Overall, we we've been pretty impressed with the 4G coverage and the quality of the connection. It's not as stable as your Wi-Fi at home but it was very stable with transfer rates of 20 mbit for file uploads and 10 mbit for downloads.
We've got some tips for equipment and apps
- Buy a good MiFi router (router that allows you to put a SIM card in). We have a TP Link m7350 that has a built-in battery. This allows you to hoist it up the mast if you're short on reception bars. It's also nice that the router's screen shows how many Gb you've used in a month.
- Don't bother investing in a Wi-Fi extender. The Wi-Fi signals at marinas, bars or restaurants are often congested or don't work.
- Don't invest in expensive 4G amplifiers: either 4G is good or it isn't. And with a battery-powered MiFi router, you're more flexible in its positioning.
- Check out the Navily app. Quite often, people give feedback on the signal strength at a particular anchorage.
- Although we only use our mobile printer (Epson WF100) once a month, it's very useful. Especially for printing test certificates, boat papers, etc. We also loaned our printer out several times, which earned us free beer and karma points.
- Install the Adobe Scan app: it turns your phone into a great scanner.
- Use wireless headphones for video calls
- Install TripMode on your laptop: it shows you which app is using how much data so you can block it if necessary.
- High quality video calls use about 1 Gb per hour. With our 120 Gb per month plans, you can use 4 Gb per day, and that's a lot of zoom calls......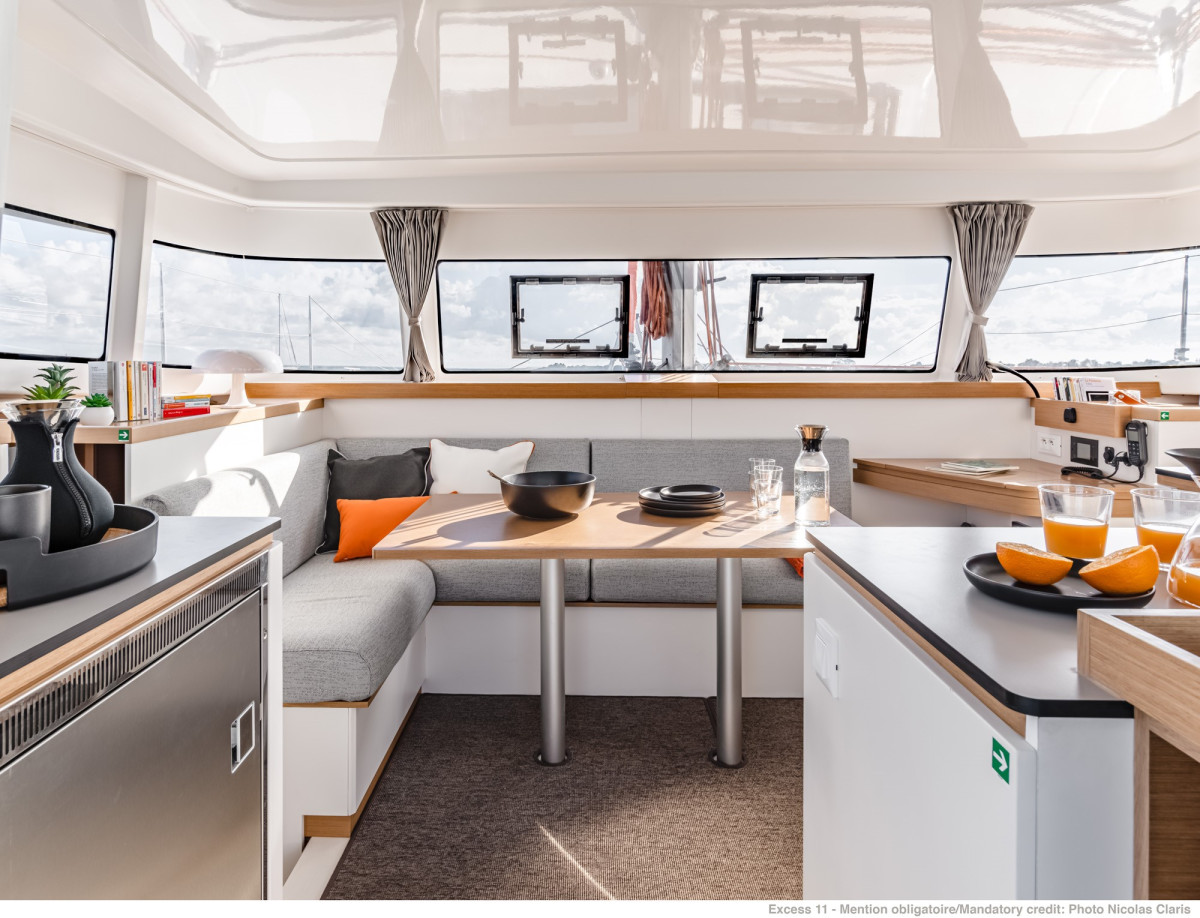 9. Are you satisfied with the changes you made? What else would you adapt?
We're actually very pleased that we didn't need to make any major customizations to our Excess.
One thing that helped us was that we had scheduled calls/meetings always at 9:00 or 10:00 am when we were in the Caribbean. It is much easier to work in the morning because you know where you will be than to try to rush to get to an anchorage so you can work in the afternoon.
10. Are you satisfied having chosen the Excess 11 as your first office on the water?
100%. A common requirement for both of us to go on an adventure meant that we could continue our work/careers.
In fact, we've noticed that it's quite fun to work from a boat, as there's nothing better than going swimming with the turtles or enjoying a kite session once "normal" work is done.
11. Would you do it all again?
If circumstances permit, yes, absolutely. We've talked to a number of people about combining travel and work and it really seems to work.
So what do you think? Are you ready to put to sea with your laptop? Have you got any other questions for Marco and Lizzy?
Share your thoughts below!
12 comments