Excess Sailors Series: David prepares to sail around the world!
Welcome to our Smart Sailors Series! The place where you will find all the information you need to make your sailing dreams come true!
In this episode, we would like you to meet David, one of our Smart Sailors. He will be travelling from France to Tahiti on his Excess 11.

Prior to his voyage, David prepared a very important checklist, and we'd like to share it with you.
Technical equipment: verification
Navigation electronics: plotters, iPad, charts, radar, AIS, VHF, auto pilot
Electrical charging systems (solar, inverter)
Water production and management (watermaker, tanks, pumps)
Running and standing rigging
Sails
Navigation
Electronic and paper charts
Emergency GPS with charts (iPad + cellphone)
Iridium Go: receiving grib files, SOS settings, SMS, email
Preparation of routing and weather choices
Analyzing polars
Contacts and chartlets of marinas: Cascais, Las Palmas, Martinique, Panama
Tools and spare parts
Check tool kits are complete
Power tools: disc cutter and electric screwdriver
GRP repair and lamination supplies: epoxy resin, hardener, mastic, filler
Bilge pumps and spare water pumps, electrical relays, electrical cable
Spare parts for routine engine maintenance (belts, impellers, filters, oils)
Sails and ropes
Sailcloth for sail repairs
Sail needles and palm
Emergency lines: main halyard, code zero halyard, reefing lines, warps, Dyneema
Ropework equipment, fids, marlin spike
Soft shackles, sail ties, blocks, shackles, friction rings
Victuals
Pre-prepared meals: the Bon Bag (see website): 40 individual dishes
A jar of Tahitian tuna cooked in coconut milk by David!
Rice, pasta, quinoa, couscous, etc.
Drinks: 20 liters of water, 20 liters of milk, almond milk, fruit juice
Fruit and vegetables
Ham, eggs, bacon, cream, yoghurt, butter…
Life on board
Sheets and blankets + cold weather sleeping bags + fleece blankets for the departure
Galley equipment + cutlery + dishes + storage boxes
Toiletries: towels, soap, toothpaste, shampoo (biodegradable!)
Music: Bose by Excess + Spotify playlists and album downloads
Netflix movies and series downloads
Books and e-books
Clothing
Offshore jacket and trousers
Sweaters and fleeces
Thermal underlayers
Special Vendée Globe technical hat by Leftovers dit L/overs
Clothes for the tropics: T-shirt, shorts, hats
Fishing, water sports, scuba diving
Trolling rods, reels, lines, lures, hooks
Speargun, diving knives
Lightweight neoprene wetsuit + wetsuit for spear fishing
Masks, weights, fins, snorkels
Wingfoil: inflatable board, foil, wing, handle
Handover and training
Hoisting the mainsail, reefing, code zero installation, tacking and gybing with Benoit
Explanations concerning technical functions: engines, solar panels, watermaker, tests
Setting up the electronics, Navionics menus, autopilot, etc.
Installation of life lines
Securing the dinghy, stowing it on board
Preparing the Grab Bag for the liferaft
Administrative aspects
Registration of the boat
VHF license and MMSI settings for the VHF, AIS and EPIRB
Up-to-date vaccinations and health passes for all crewmembers
Contact with marinas on the route, information on entry conditions to the Canaries and Martinique
Preparation for Panama Canal transit

We know that many of you are in search of this kind of information and that many of our members have a lot of sailing experience. So, sailors, how do you prepare before going on a big adventure? What would you add to this list?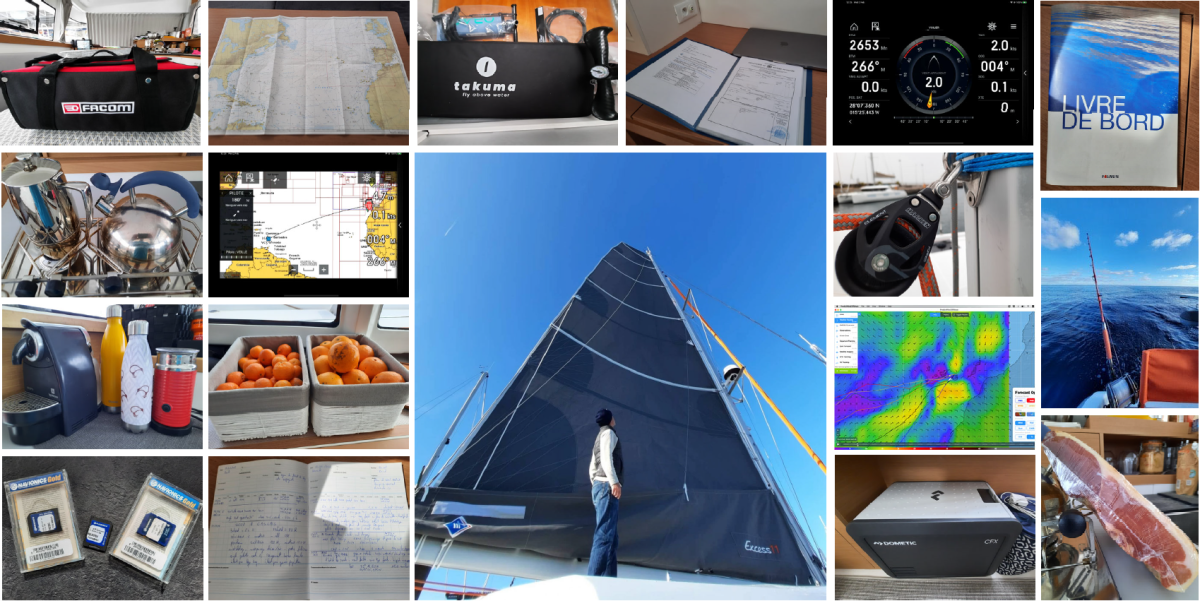 1 comment