Onboard refrigeration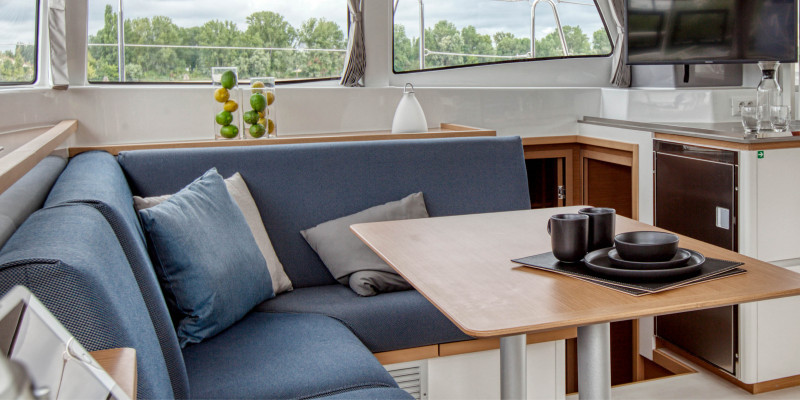 Refrigerated storage on board a boat is a vast subject. Ice box, refrigerator, freezer… in the galley, in the cockpit… top-loading, front-loading, drawers... There are so many options to suit the various needs, depending on how you use your boat.
First thoughts often run to the fact that "When it comes to on-board chilled storge, you can never have enough". Whether it's for a cold beer after a day's sailing, frozen vegetables on a long passage, or ice cubes at sundowner time, refrigerators and freezers are no longer a luxury today, more of an essential.
The financial cost of this comfort is quite easy to measure by looking at a simple optional extras price list, but it is the other, less visible impacts that we want to look at here.
Terminology
Before getting right to the heart of our subject, it's important to review the different types of equipment and their terminology.
The commercial designations in the marine industry vary widely from one brand to another, and even sometimes from one model to another: Are a 'freezer' and a 'deep freeze' the same thing? Do an ice-box and a refrigerator work at the same temperature? To simplify matters, we're going to use the designations corresponding to domestic appliances, where each star is equivalent to -6°C, namely: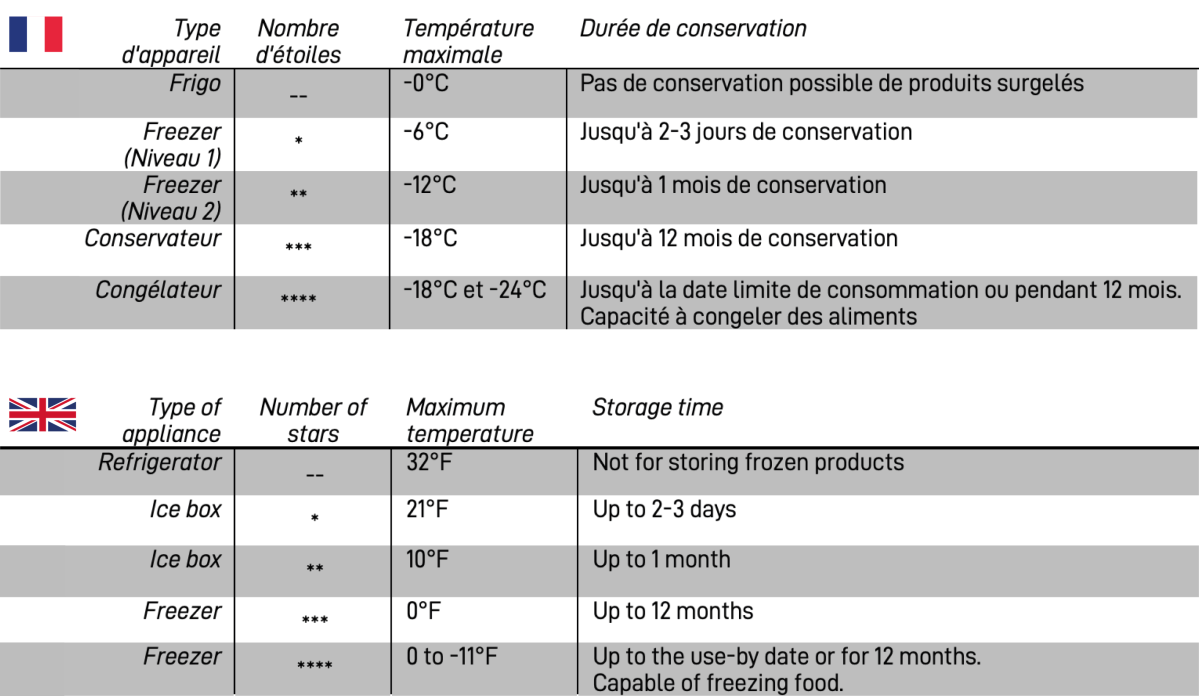 Marinized refrigerator versus domestic refrigerator
In addition to the voltage, the main differences between a domestic refrigerator and a "marinized" appliance, are as follows:
- Corrosion-resistant materials (plastic, stainless steel doors and handles, etc...)
- Insulation is generally thicker
- Anti-accidental opening handle (boat movement/heeling)
- Forced ventilation compressor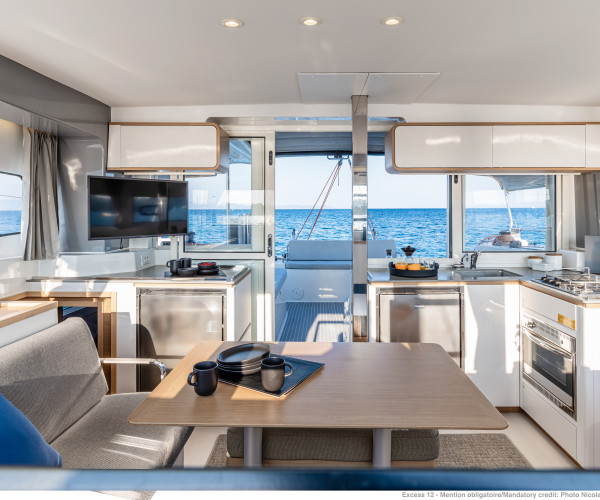 Refrigerator volume on board
The volume of chilled storage on board our Excess catamarans can vary significantly, depending on the customer's choices. As an example, on the Excess 12:
- Standard equipment: 130L (4.6 cu ft) refrigerator – ie. above freezing - with 6L (0.2 cu ft) ice box compartment (-6°C/21°F, on the top level)
- Options in the saloon: 130L (4.6 cu ft) refrigerator or 90L (3.2 cu ft) freezer
- Option in the cockpit: 40L (1.4 cu ft) refrigerator
All of this giving the possibility of anywhere between 136 and 300L (4.8 to 10.6 cu ft) of storage!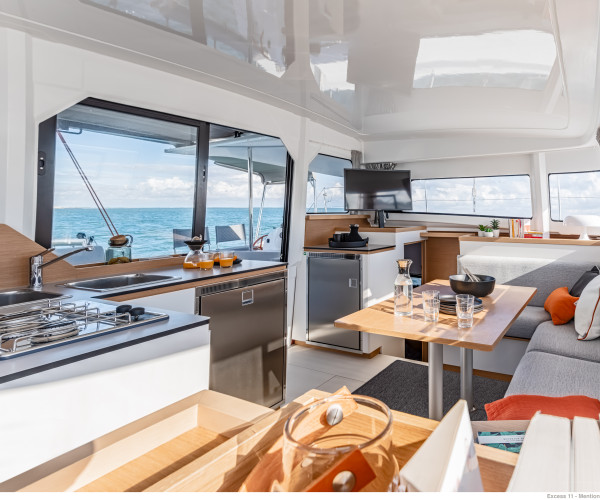 Impact on the space inside the boat
For a refrigerated volume of 130L (4.6 cu ft), taking into account the insulation, the air gap required for ventilation of the fridge and the furniture to contain it, there is in fact about 375L (13.25 cu ft) of "useful space" within the boat that is taken up, meaning nearly 3 times more !
Your choice of equipment will therefore have a significant impact on the layout and the space available for life on board.
Energy impact on board
Refrigerators can typically be the biggest energy consumer on board. Inconspicuous compared to a windlass, an autopilot or electric winches, they consume energy over very long periods and have a heavy impact on the energy balance on board.
Several parameters can increase this consumption even further:
- Latitude where the boat is used (it goes without saying that the fridge on a boat in Scandinavia will consume less than one in the Caribbean!)
- Refrigerator installed outside, potentially in the sun
- Poorly insulated or poorly ventilated refrigerator (especially if the ventilation grills are obstructed by anything)
- Frequent opening and closing with the fridge having to redescend to its target temperature each time
- Filling the refrigerator with food at ambient temperature (especially when revictualing)
- Front opening refrigerator (cold air goes down, so a top-opening unit or a drawer system lets much less cold air escape than a door)
In terms of the numbers, a 130L (4.6 cu ft) refrigerator, in real conditions, consumes around 440W/day, meaning in 12V terms, 37 Amps every 24 hours
In "normal" use, such a refrigerator will be running about 18 hours a day (and up to 24 hours in some of the situations described above)
So we arrive at a "normal" consumption of 27.5A / day. A lead-acid battery can be used up to 35 to 50% of its nominal capacity, this means that a simple 130L (4.6 cu ft) fridge can, by itself, empty a 140 Ah battery in 2 days of normal use.
Impact on the total weight
Increasing the volume of refrigerated storage on board adds to the overall weight of the boat and therefore its performance, according to three main criteria:
- The weight of the electrical appliances themselves
- The weight of any additional batteries required
- And of course, the weight of the contents (food, ice cubes, drinks, etc.) of the various appliances
In addition to the useful space, the choice of your equipment will have an effect on the performance of your boat.
Now that we've described the context and what's at stake in the topic of "on-board refrigeration", we're eager to hear your opinions.